06.04.2022
Information on the purchase of local bonds of Ukraine issued during the War Time (Peace Bonds)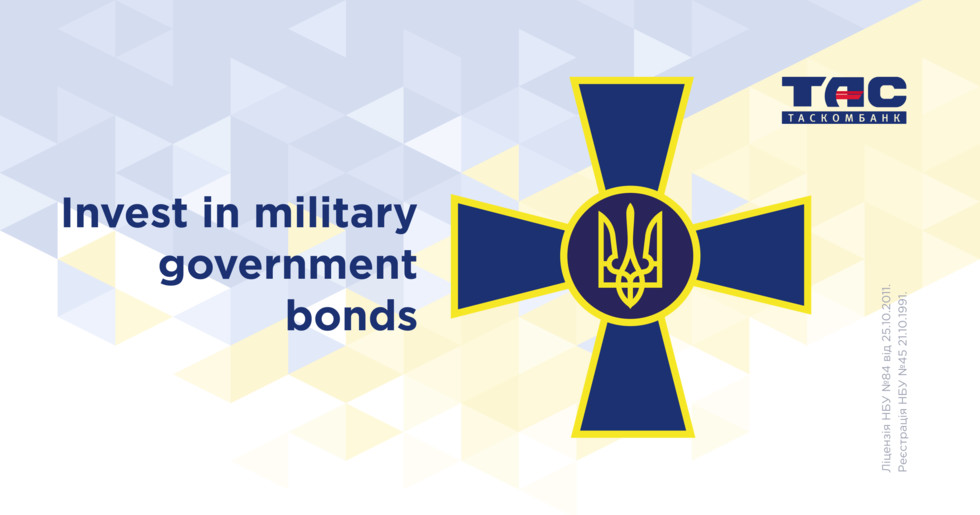 Dear clients, given the military aggression of the Russian Federation, the Ministry of Finance of Ukraine encourages to support the budget of Ukraine by investing in military bonds (local bonds of Ukraine issued during the War Time by Government of Ukraine (also known as Peace Bonds)).
Citizens, businesses and foreign investors are welcomed to purchase military government bonds.
The raised funds will be used for needs of the Army and country's budget to provide smooth financial support in wartime.
Everyone can purchase military government bonds in the national currency and in US dollars via TASCOMBANK. It's crucial that payment for foreign currency bonds must be done only in USD thus there are no additional costs on currency conversion or foreign exchange transactions.
TASCOMBANK team is ready to guide you with investments in Peace Bonds.
The state has established the attractive conditions for military governmental bonds:
10% per annum for bonds in UAH, placement period - six months;
11% per annum for bonds in UAH, placement period - 1 year;
3.7% per annum for bonds in USD, placement period - 1 year.
The process of acquiring Peace Bonds via TASCOMBANK is the same as for regular bonds during peacetime:
we open a securities account for you (in case you don't have an opened one)
we conclude an order agreement for the purchase of military bonds;
we buy bonds on the stock exchange and credit it to your securities account.
The government auctions are held every Tuesday and papers are already available for purchase for individuals and legal entities, for residents and non-residents on the secondary market.
To purchase military government bonds through TASCOMBANK, please contact our team:
Igor Kalashnyk - [email protected]; +380972267564
Kateryna Kolot - [email protected]; +380973557015
Artem Karelin - [email protected]; +380679687080
Or you can fill in the form at the bottom of this page.
Keep calm, help the Armed Forces of Ukraine, take care of yourself and your beloved ones. Together we can do everything, because our strength is in our unity!